Dress it UP⇧
Don't dress down⬇︎
Look GOOD, People!
Make it Dressy Casual
(not too casual–smile)
Additional Details:
✅ Full length, stylish jeans & denim are OK
✅ Fashionable Sneakers are OK–clean/new are best
✅ We love OLD SCHOOL models of shoes
(eg, Chucks, Shell Toes, Stans, AF1s, Classic Jordans, Pumas)
✅ Ath-Leisure footwear is OK
✅ Old school vintage attire is OK
✅ Fashionable headwear and hats are OK
(no baseball caps---or anything STYLED like)
(bucket hats are OK -- stylish Kangols are OK)
✅ Dressy linen shorts are OK
✅ Most dresses, skirts, and suits are OK
✅ Religious headwear is OK
No flip-flops or slides (for safety reasons)
No baseball caps…including any item shaped/styled like a ball cap (ZERO–LEAVE THEM AT HOME or in your car!!)
No head wraps, doo rags (religious headwear permitted)
No athletic attire, warm-up suits, track suits
No biker gear, sports jerseys, hoodies, tank tops
No overly-exposed attire (women and men)
No cargo shorts, denim/jean shorts
No negotiations… No Joke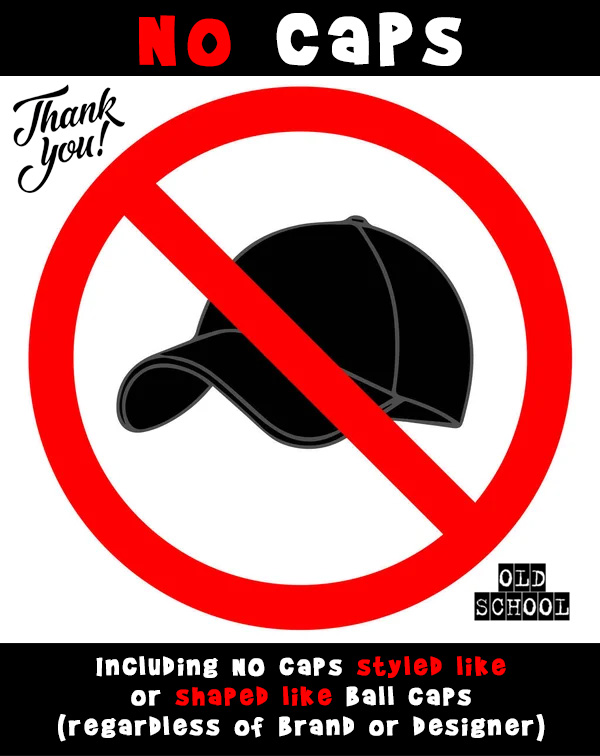 BEFORE

you buy a ticket,

please be aware

of our DRESS CODE:

We reserve the right to deny entrance to any person (we will happily replace your tickets or issue an immediate refund).
IF you have

doubts

about your attire, PLEASE simply opt to
wear SOMETHING ELSE

… thanks.